As I mentioned in an earlier post we are using bellawood 3 1/4 " select maple flooring for this project. This prefinished flooring was purchased with a 100 year transferable warranty. http://www.lumberliquidators.com/catalog/product.jsp?productId=1519
We let the flooring acclimate in the house for a few days and are now ready to start.
We will be installing the flooring in sections, determined by the layout of the house. There is different underlayment in some of the sections and we are going to remove the top layers of flooring and underlayment in each section to arrive at a  stable single level for all  the areas where we will be installing wood.
We are starting in the dining room. We have removed the top layer of old laminate style flooring and a layer of 1/2″ underlayment leaving a thin layer of felt. The layer of felt is similar to a product called "Quiet walk"made by www.quietwalk.com.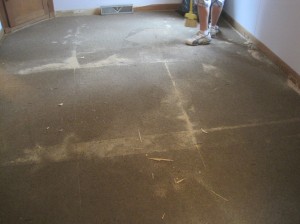 After removing the baseboard  we cleaned up the felt underlayment and we are ready in install the maple flooring.
The flooring was installed using a Bostich floor stapler with 2″ staples.
The picture below shows the border between the dining room and the living room running perpendicular to the direction of the main floor.
The picture below shows that when the lino and the 1/2″ underlayment beneath it are removed from the kitchen floor the new maple flooring in the kitchen will be installed in the same plane as the maple flooring in the dining room. The maple flooring  in the kitchen will be installed directly over the older linolium and the new flooring in the balance of the house will be installed directly over the old felt. Leaving everything in the same plane.