The following pictures show the furniture in the house being moved from the next area of installation to other parts of the house.
After the furniture is moved the old flooring and  a layer of underlayment is removed.
The picture below shows the border between the dining room and the living room installed. The second member of the border is done in two pieces to allow for the direction of the tongue  to be switched.
We are starting the flooring in the middle of the room and moving toward the outside of the room. A spline will be made as a double tongue to allow us to change direction.
A perpendicular transition piece is installed between the living room and the hallway.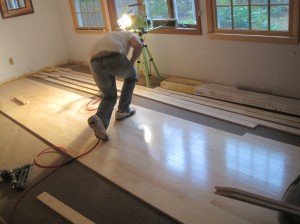 Main section of flooring being installed
After the flooring has been installed in the front section of the living room the furniture is moved from the rear section and the old flooring and underlayment are removed .
The picture below shows the paneling removed from a wall where we will be installing a piece of stained glass into a framed and cased opening. The electric wires and light switches  will have to be relocated.
A spline was put into the last row of flooring allowing us to change direction and the flooring approaches the brick work at the fire place hearth. We will build a maple border for the hearth.